ANTIQUE MARINE ENGINE EXPOSITION 2003
MYSTIC SEAPORT MUSEUM, MYSTIC, CONNECTICUT
AUGUST 16-17, 2003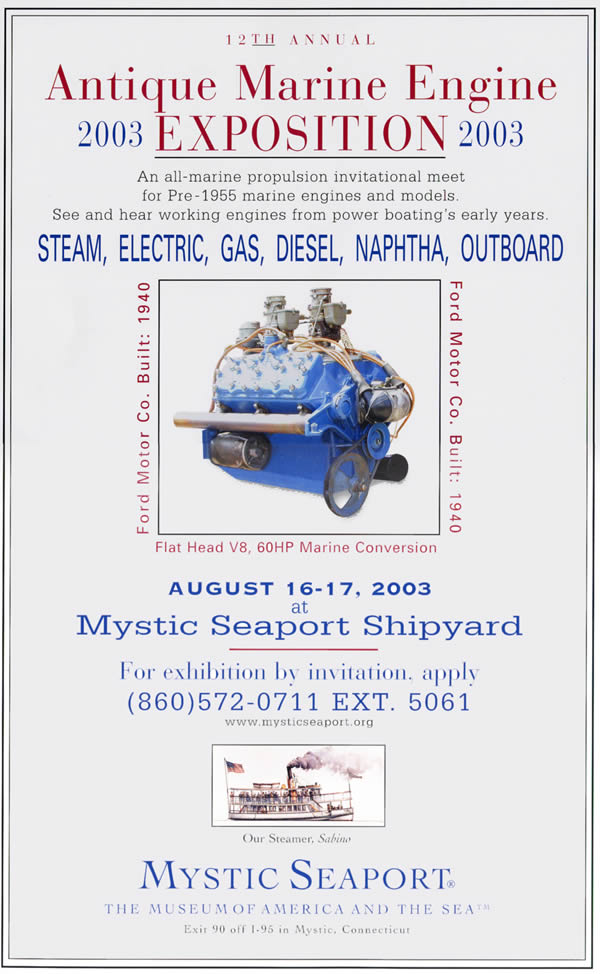 For details about exhibiting, see the Engine Show Exhibitors info page.
Here is what they say on their calendar page:
"Special Events: Antique Marine Engine Exposition
Hear the hum. See the steam.
August 16 - August 17
Location: Shipyard
Come see the amazing display as collectors from across the U.S. and Canada demonstrate
"the power for a new century" – the 20th! The transition from sail to engine power is brought to life through
a dazzling display of marine engines from 1957 or earlier.
See running outboards, inboards, steam engines, models and toys.
Fire up a steam-powered Putt-Putt boat and turn it loose in the pool.
Talk to exhibitors about their beautifully restored engines.
Learn about the cross-fertilization between car, boat, and airplane engines.
Contact: Dana Hewson Phone: (860) 572 5341 Fax: (860) 572 5344
Contact: Karin Fuog Phone: (860) 572 5341 Fax: (860) 572 5344 Email: [email protected] "
Mystic Seaport continues to advertise this a "by invitation only" show, which in my humble opinion,
leads some people to believe that if they are not "invited", they are not welcome. My understanding
is that all exhibitors are welcome as long as they bring engines that conform to the guidelines. I think a
more appropriate description might be, "pre registration required".
If you are interested in exhibiting , contact the museum at the numbers or email above and you will be welcomed.
It is a great show and well worth attending, exhibitors are given the royal treatment !