ANTIQUE MARINE ENGINE EXPOSITION 2008
MYSTIC SEAPORT MUSEUM, MYSTIC, CONNECTICUT
AUGUST 16-17, 2008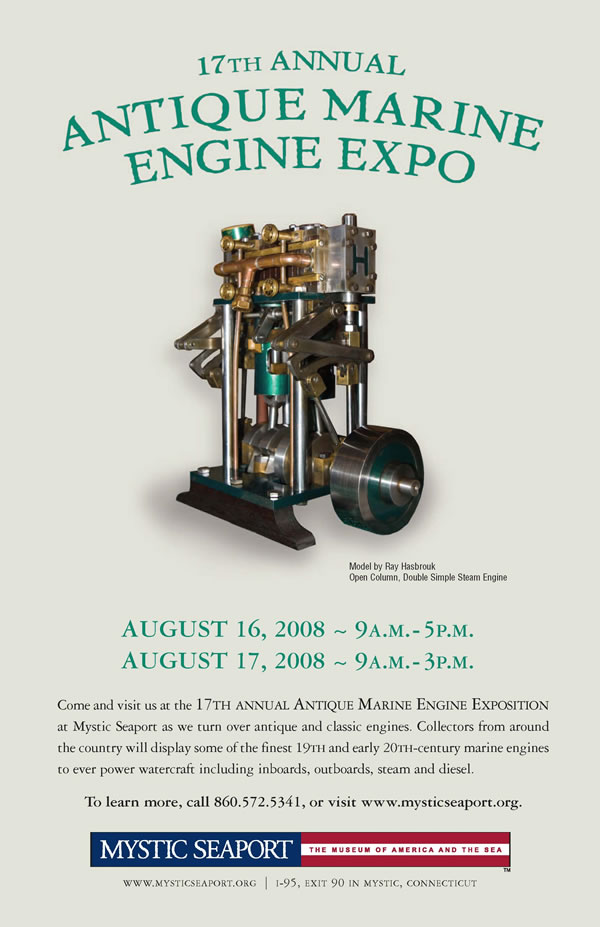 Antique Marine Engine Exposition
Hear the hum. See the steam.
August 16 - 17, 2008
Saturday, 9 a.m.-5 p.m.
Sunday, 9 a.m.-3 p.m.
The transition from sail to engine power was a momentous event for the maritime industry – and the world.
Experience it firsthand as collectors from around the country show off a humming,
steaming display of 19th- and early 20th-century marine engines.
Inboards, outboards, steam engines and models will be on display
in the Henry B. duPont Preservation Shipyard.
Link to information on the Mystic Seaport site.
It is a great show and well worth attending, exhibitors are given the royal treatment !
Register your antique marine engine!
Use the links below (in Adobe Acrobat PDF format) to register for the Antique Marine Engine Exposition:
Letter of Invitation

Registration Form