ernie
Senior Member
Username: ernie

Post Number: 854
Registered: 01-2002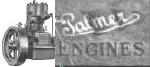 | | |
| --- | --- |
| Posted on Wednesday, July 16, 2008 - 07:40 pm: | |
---
These were sent to me by Don Boehl.

"Recently I picked up a new old marine (one lunger) engine. It is small appears to be single horse, with a vaporizer instead of a carburetor.
The engine does not bare any manufactures plate on any numbers. It is a "what is it"."