kensprin
New member
Username: kensprin

Post Number: 1
Registered: 11-2010

| | |
| --- | --- |
| Posted on Monday, November 08, 2010 - 02:57 pm: | |
---
I have just acquired this engine Attached. It is badge with "Stuart Maine 40R 391 reverse gear"

I have a few questions. I have just over hauled the magneto and now it seems to be getting a spark to the plug

1.At what point/position do I set the mag with respect to TDC on the gear sprocket

2.is this engine 2 stroke and what mix is it best run at

3.Best spark plug to use.

4.Is it a 40r model as I can't get a lot of info on it?

Thank, Ken.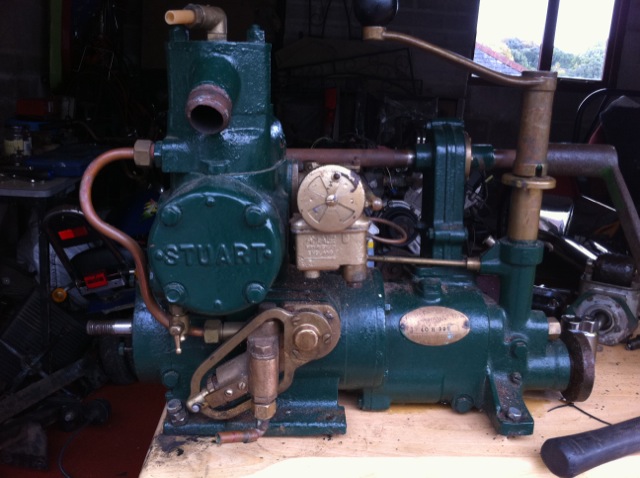 speleausmining
Member
Username: speleausmining

Post Number: 9
Registered: 10-2010

| | |
| --- | --- |
| Posted on Tuesday, November 09, 2010 - 11:19 am: | |
---
I am sure someone can chime in with the exact specs but the spark should be send about 10-15 degrees past TDC. Best fuel mix I have found is 16-1 naptha & marine two stoke oil. If you intend on using regular gasoline be aware that you will have to purge the tank and fuel system frequently as it is not particularly stable (goes bad quickly)