bcm
Member
Username: bcm

Post Number: 15
Registered: 11-2009

| | |
| --- | --- |
| Posted on Wednesday, December 15, 2010 - 05:15 pm: | |
---
Upon reading the previous post regarding keel cooling, it occurred to me that those who use an old engine to power their boat might be interested in a device to check water flow. I use the strainer shown in the attached image that is installed in the suction side of the reciprocating cooling water pump. The strainer has a clear plastic screw on top that provides an obvious visual check of water flow. I find it very useful as a quick glance confirms cooling water is flowing.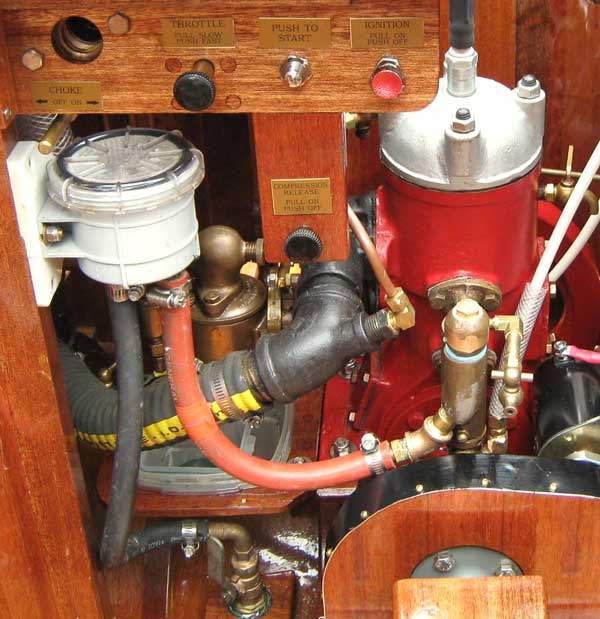 john_archibald
Senior Member
Username: john_archibald

Post Number: 162
Registered: 08-2006



| | |
| --- | --- |
| Posted on Wednesday, December 15, 2010 - 05:50 pm: | |
---
Pretty snazzy set up!

In a steamboat that we used to have in 1960 the arrangement for the boiler feedwater was such that we had an open hot-well covered with a bronze window screen to keep out leaves, etc. Up through the screen and a simple guide came a small diameter stainless steel rod with a cork on its bottom end. It's top end had a little red wooden knob. This float told you how much water was in the hot-well. You just poured water into the hot-well with a saucepan from the lake. The saucepan had a string on it so you didn't lose the damn thing.

Anyhow, there was another feature about this steamboat and hot-well that ties into the keel cooler stuff. There was a false bottom sealed chamber under the ash pit. It was full of water and a small pump pumped water continually through this false bottom and over to the hot-well. It just came via a 5/16-inch copper tube. That tube was like a running faucet that sent its water into the top of the hot-well and you could get a visual check on whether the ash pit pump was working that way.

So the keel cooler could be done the same way. There is no need to have a sealed pressurized cooling system. It will never get hot and you can still have anti-freeze in it.

It really just comes down to common sense and whatever you have at hand for supplies, etc.

Oh, by the way, the ash pit pump was run off an eccentric on the steam engine's output shaft and it was an ordinary die-cast fuel pump. Nothing fancy for steam on the cheap.

Why the water-cooled ash pit? It was a wooden boat!