Barry Millar
Senior Member
Username: barry

Post Number: 63
Registered: 02-2006

| | |
| --- | --- |
| Posted on Saturday, April 19, 2008 - 06:59 pm: | |
---
I'm unsure regarding the best way to slow down a 2-cycle marine engine. If using a Schebler model D, one method is to close the throttle disc. The other method is to keep the throttle disc open and retard ignition. Both methods will result in the same reduced RPM.

Barry







Ernie
Senior Member
Username: ernie

Post Number: 802
Registered: 01-2002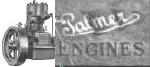 | | |
| --- | --- |
| Posted on Saturday, April 19, 2008 - 07:45 pm: | |
---
yup and????
I think it is which way does the engine run easiest. Retarding the timing does push the temp up quite a bit.
However some engines like retatded timing better than a closed throttle and vis a versa
????????????????????????????????????
The easiest is the key. My fantail launch settles in at around 5 knots with about half throttle and very little advance. No noise and real smooth
To quote Weston Farmer "low pressure boating"
To slow it down requires both closed throttle and retarded timing.