andrew
Moderator
Username: andrew

Post Number: 1188
Registered: 11-2001



| | |
| --- | --- |
| Posted on Sunday, August 14, 2005 - 09:54 am: | |
---
I don't know if anyone can help or not... but I have received the following emails from Italy.

---

<!-quote-!>quote:

I am finding a schebler carburators and her technical informations about this carburator. It fix on my Harley built in 1917.

Now I have only the body of caburator and I have not all others parts of this.

can You help me

thanks

Carlo Baggio
Italy<!-/quote-!>

---

and

---

<!-quote-!>quote:

Excuse me but my englisch is not very good.
in this moment I have only a body of caburator whitout every accessories.
First questions is : this parts (body) than I have ,is right about the model of Harley ? I dont know What is the right type of carburator.
The harley in one "v" twin of 1000 c.c. built in 1917.
Is the body may be right, I find the spare parts in order to complete it.
If it is no right for this model, in this case , i need of a complete carburator.
How can do for to know if the body than I have is right for this model of harley ?

Thank you very much for your assistance
ca.baggio@tin.it<!-/quote-!>

---







richarddurgee
Senior Member
Username: richarddurgee

Post Number: 828
Registered: 11-2001



| | |
| --- | --- |
| Posted on Sunday, August 14, 2005 - 11:40 am: | |
---
Shebler model "H" carburetor was used on many american motorcycles in the teens. It was also factory issue on some marine engines in the teens as well.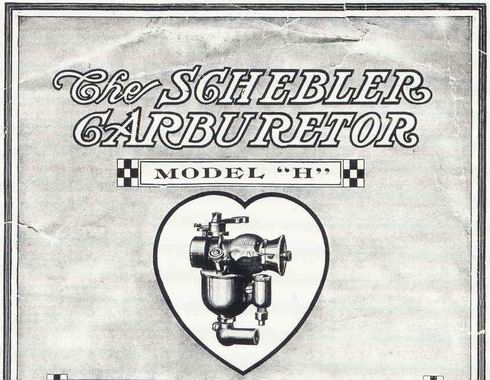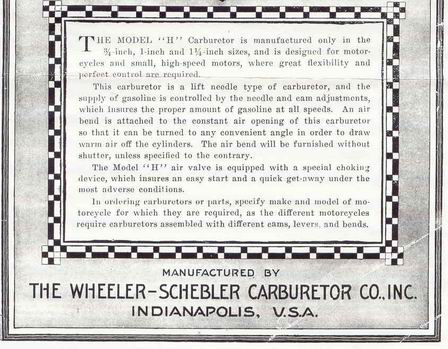 This 1913 DeLong used the Schebler H.