searcher
Senior Member
Username: searcher

Post Number: 291
Registered: 10-2004

| | |
| --- | --- |
| Posted on Friday, March 20, 2009 - 11:53 pm: | |
---
For some reason, I thought Palmer laid claim to being the first to lubricate engines by mixing oil in the gasoline. Elbridge reserves that claim for themselves in this 1909 ad.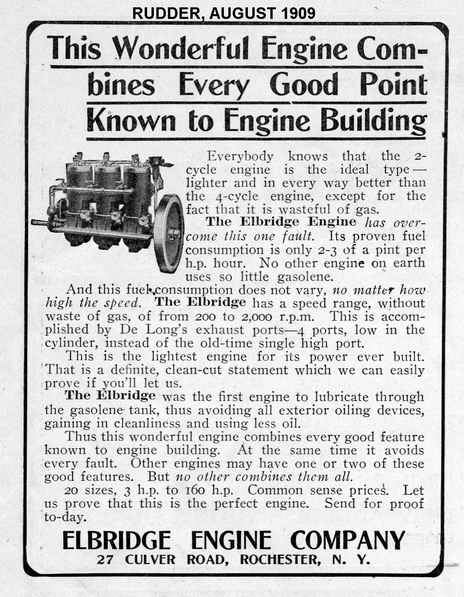 richardday
Senior Member
Username: richardday

Post Number: 725
Registered: 11-2003



| | |
| --- | --- |
| Posted on Saturday, March 21, 2009 - 10:24 am: | |
---
Probably the most significant advancement made in the evolution of the two-cycle engine was the mixing of oil in the gasoline fuel supply to solve the engine lubrication problem.
At the March 1-8 1909 Second Annual Detroit Motor Boat Show is the first time the mention of mixing oil in the fuel seems to have attracted attention. In part I suspect was the fact Messrs, Pierce Nye and Budd were well recognized in boat racing circles for their high performance engines.
The earliest reference to this "daring innovation" appears to be an article on page 179 of the April 1909 Power Boating magazine. It appears that Mssrs. Pierce, Nye and Budd were the originators of the practice, but Palmer Bros. led the industry in their post 1909 publications spreading the word to encourage the adoption of the idea. By 1910 Palmer Bros. were mounting a plate on their two cycle engines recommending 1 pint of oil be added to each 5 gallons of gasoline. This tag was the same size as their serial number tag. It was mounted on the forward starboard side of the cylinder with the same screw mounting hole spacing as the serial number tag which was mounted on the forward port side of the cylinder. This is one way one can assume Palmer two strokes missing these two tags were made pre 1910 or post. Some of their two strokes which came on stream in 1900 were still in production in the 1920s. HEC has a Palmer Model B serial number 267310 with the oil mix tag.
I might mention Mr. Lathrop didn't believe in the practice but his customers did as they found it much more reliable than weekly cleaning and filling drip oilers which became black with use and didn't really lubricate reliably. The makers of drip oilers must have been very unhappy with the practice of mixing oil in the fuel.