bill schmaltz
New member
Username: pagodas

Post Number: 1
Registered: 09-2015



| | |
| --- | --- |
| Posted on Sunday, September 06, 2015 - 02:17 pm: | |
---
Bought this at an auction with hopes of getting it working and then into a boat. Any ID of this would be helpful.

Need local assistance (MN or WI) in repairing it. I have hit it with compressed air but it won't budge.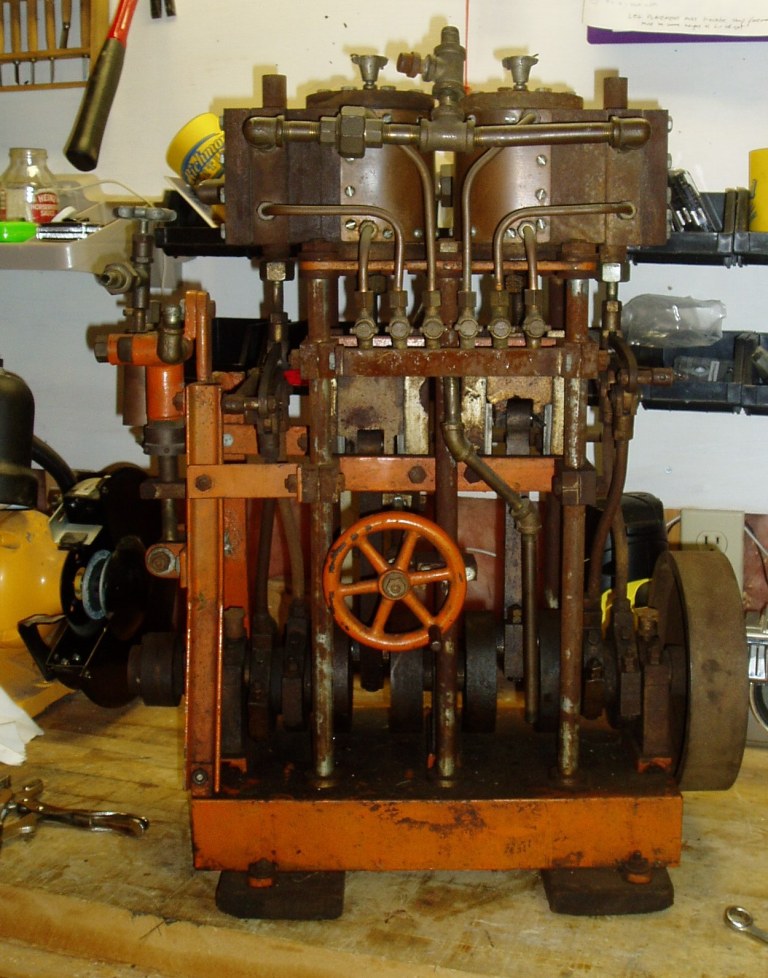 Andrew Munns
Senior Member
Username: johnoxley

Post Number: 140
Registered: 04-2010

| | |
| --- | --- |
| Posted on Sunday, September 06, 2015 - 05:18 pm: | |
---
Hi - Clearly 2 cylinder simple expansion launch engine with Stephenson link reversing. Seems to use auto connecting rods and a big engine crosshead design from very large diesels. Manifold at the back of the engine (shown) is for cylinder drains, which collect into a single header. Flywheel is at RHS (aft) and what looks like a feed pump LHS (fwd). Try gripping flywheel with a strap wrench. If the crank turns a little, the pistons are most likely stuck. If the crank will not shift at all the issue is with mains. If the reversing gear handle turns the crank firmly, the eccentrics are stuck. If you have to open any bearings, keep track of any shims between bearings as these predate standard sizes and will all be individually fitter assembled.