Searcher
Senior Member
Username: searcher

Post Number: 526
Registered: 10-2004

| | |
| --- | --- |
| Posted on Saturday, April 28, 2012 - 01:09 am: | |
---
The chances of finding parts for this Cuno timer are low though probably not impossible. Assuming I will need to repair these parts rather than replace them, what is the best way to repair the two grooves cut into the timer shaft and the corresponding wear on the roller bracket where the shaft passes through it?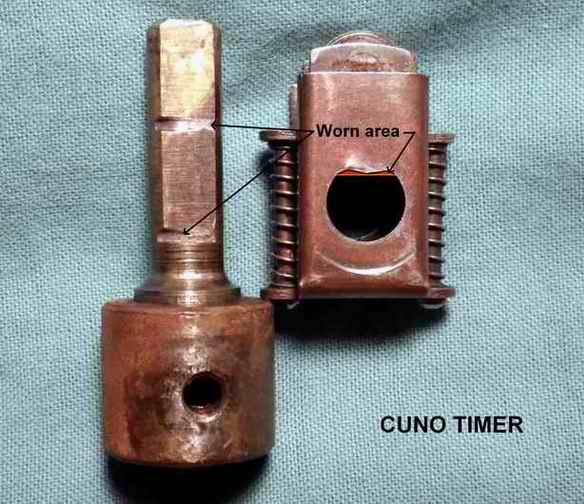 J.B. Castagnos
Senior Member
Username: jb_castagnos

Post Number: 683
Registered: 07-2002



| | |
| --- | --- |
| Posted on Saturday, April 28, 2012 - 06:26 am: | |
---
Silver solder flows at a lower temp than brass, a lot safer than trying to braze it. You could build up the shaft and file it smooth. A steel shaft, 1/2" it looks like, cut on an angle and a flat filed on it could be used to back up the worn area, peen it down to tighten up the fit. It too could be silver soldered and filed if necessary. This isn't critical and won't affect performance utill it actually slips.