miro forest
Senior Member
Username: miro

Post Number: 1144
Registered: 11-2001



| | |
| --- | --- |
| Posted on Tuesday, August 10, 2021 - 08:19 am: | |
---
After several months of running , my engine started to mis-fire on one cylinder , but was OK on the second, even with the "fix" that I had used - see my earlier post on this thread.
There was nothing for it but to pull the engine out of the boat, and rebuild the timer contacts.

I've attached a sketch of the timer contact housing. The bore is nominally 5/16 in or 0.312 in.
The bore had been banged out and bell mouthed to about 0.360 in, so the spring loaded brass slug was hanging up - what to do?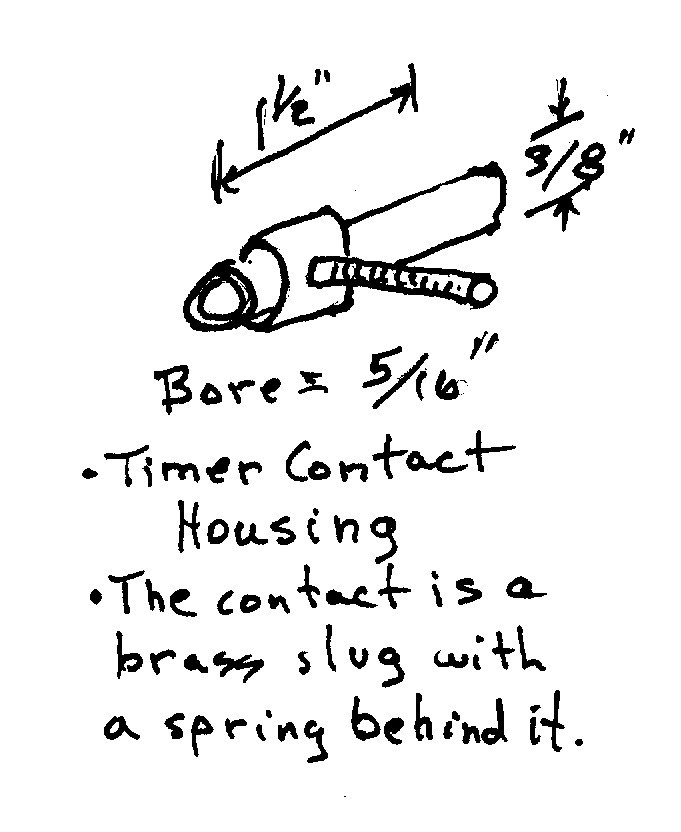 I bored the oval hole out to make it round and inserted a brass plug the whole length of the bore and sweat soldered it in. Then I bored it out 5/16 and machined a new slug for the contact. Did this for both timer contacts.

Once re-installed on the engine, I got a nice hot, blue, noisy spark on both cylinders.

The most interesting effect, though was that I was able lean out the mixture by a 1/4 turn of the mixture screw on the Schebler.

This provides further evidence that most carb problems are electrical in nature :=}

miro