VulcanEngines
New member
Username: vulcanengines

Post Number: 1
Registered: 04-2014

| | |
| --- | --- |
| Posted on Thursday, April 17, 2014 - 11:54 am: | |
---
Hi everyone,
At a recent sale, this little engine decided to follow us home.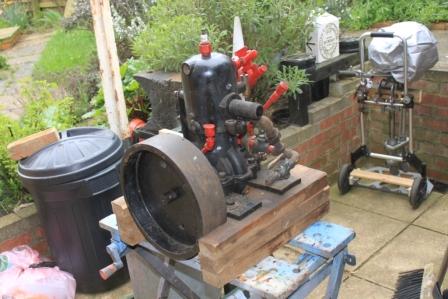 Better pictures: http://imgur.com/a/6nIjd

I haven't seen many US marine engines here in the UK, so I'm a little stumped as to who actually made it.
The seller said it might be a Detroit, but after doing some research, I've found about 25 different companies in Detroit who made little engines of this vague style.

Ideally, I'd like to know a date and serial number for it, but without knowing a manufacturer, that looks tricky for now...
The number "419" is stamped (upside down) on the eccentric that drives the pump and ignitor, but there's no other numbers or letters anywhere else on the engine, and no sign of a makers plate ever being fitted.

As can be seen from the photos, the carburettor is missing. Would it have been a Lunkenheimer type, or something else?

Any help would be much appreciated.